Casinos
Atlantic City Hotels
AC Area Hotels
Everything Else AC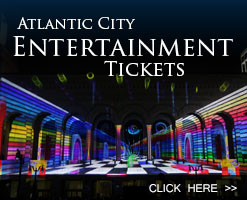 Atlantic City Airport
The Atlantic City International Airport (ACY) is located just 20 minutes from the action of Atlantic City, off the Atlantic City expressway, exit 9.  Unlike most big airport, ACY is small and stress-free.  The only airline servicing the airport is Spirit Airlines. (www.spiritair.com)  Spirit airlines flies daily to Boston, Detroit, Chicago, Atlanta, Orlando, Tampa, Ft. Myers, Myrtle Beach, West Palm Beach and Ft. Lauderdale. From these spots you can then travel on to 25 other cities in the West, Caribbean and South and Central America including… Las Vegas, San Diego, LA, Mexico City, Panama City, Cancun, Lima Peru, Aruba, 2 stops in Jamaica, Haiti, Dominican Republic (2 cities), St. Thomas, Puerto Rico (2 stops), St. Marteen and Nassau.
Because the airport is small, check-in and getting through airport security is quick and easy.  On the first floor, near check-in is Hudson news, a store for snacks, magazines, souvenirs and gift items. For quick snacks for breakfast, lunch and dinner and coffee on the go, check out Deuce's Wild. They open at 5am daily and serve made to order breakfast as well as burgers, sandwiches and snacks.
Once you clear security, you will proceed to the second level. On the second level where the 10 gates are located, you will find Samuel Adams Brew Pub, open for breakfast, lunch and dinner serving salads, sandwiches, burgers, apps as well as wine, beer and liquor.
Thrasher's is a quick serve venue especially good for bagels and coffee in the am.  Euro Coffee/Hudson news, also on the 2nd floor serves grab and go coffee and snacks as well as magazines and gifts.
Parking-parking at ACY is also easy. You can park in the 6 story parking garage for $12.00 a day, short term parking (for drop off or pick up) for $1.00 and hour up to $13.00 max for a day, economy parking in an open lot for $9.00 a day. The economy lot has a free shuttle which begins at 4am daily.
For parking take a ticket upon entry to the parking area and when you return, go to the garage lobby and pay at any one of parking machines. You can also pay with your E-ZPass by inserting your ticket at the exit gate and hitting the "pay with EZ Pass" button. If you want to use E-Ticket Express, enter a credit card upon entering the parking facility and take your ticket. When you leave insert the ticket and your credit card will be charged. All parking areas are safe and well lit.
There are 4 car rental agencies at the airport. Hertz (www.hertz.com), Avis (www.avis.com), Budget (www.budget.com), and Enterprise (www.enterprise.com). There are usually available taxi's located outside the baggage claim area or you can use a courtesy phone and dial 2002. The taxi rate is fixed so don't accept any rate other than $27.00. There are some private shuttles that charge $13 but they do not go to every casino/hotel property. Ask before you get in what the price will be and if they will drop you off at your exact location.
Leave Your Comments Here:
User Comments