Casinos
Atlantic City Hotels
AC Area Hotels
Everything Else AC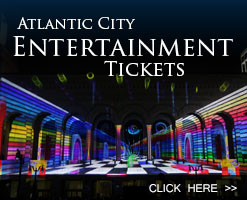 Atlantic City Attractions
ABSECON LIGHTHOUSE: Rhode Island and Pacific Aves., Atlantic City (449-1360). Built in 1857, along with the light keeper's house. A photographer's delight. Call for hours.
ATLANTIC CITY HISTORICAL MUSEUM.
Garden Pier, Boardwalk at New Jersey Ave., Atlantic City (347-5839). Open daily 10am-4pm.
BIRCH GROVE PARK AND WILDLIFE ZOO.
Burton Ave, Northfield (641-3778). Lakes for fishing; playground, mini zoo, walking paths, and picnic areas. Miniature-golf and camping seasonal. Open 9am – 5pm daily. Weekends and holidays $1 admission.
BOATING.
Duke O' Fluke party boat sails from Higbee Ave. at the Bay, Somers Point (926-2280). Fishing in the back bays for flounder, weakies, and blues. Operating 4 hour trips, daily 8am-noon, 1-5pm. Nature cruises available. Call for information and reservations.
CAPE MAY COUNTY PARK ZOO.
Garden State Parkway Exit 11, Rt 9, Cape May Court House (465-5271). Over 85 species of wild animals, bird aviary and a 35-acre African Savannah. Open daily 10am-4:45pm. Free but donation requested.
GARDNER'S BASIN.
800 N. New Hampshire Ave., Atlantic City (348-2880). Restaurant, tall ship Young America (348-8818), Atlantic City Parasail, (348-0033), and Cruisn 1 sightseeing cruises (347-7600). Call for more information.
GILLIAN'S ISLAND WATER THEME PARK.
Boardwalk at Plymouth Pl., Ocean City (399-0483). Large water slide and other water amusements along with a popular miniature golf course. Open seasonally.

HAMILTON MALL.
4403 Black Horse Pike, Mays Landing (646-8326). Over 140 stores and restaurants, including Macy's, Sears, JC Penney, Red Lobster, Olive Garden, Ruby Tuesday. Open Mon-Sat 10am-9:30pm, Sun 11am-6pm.
HARD ROCK CAFÉ.
Trump Taj Mahal on Boardwalk (441-0007). Pulled pork sandwiches, ribs, smoked chicken, fish, burgers, salads, gourmet appetizers, and cold beer. Expansive rock memorabilia. Open daily for L, D, and LS Mon-Thurs 11:30am-midnight, bar till 1am; Fri 11:30am-1am, bar till 2am; Sat 11am-1am, bar till 2am; Sun 11am-midnight, bar till 1am.
LUCY THE ELEPHANT.
Decatur and Atlantic Aves, Margate (822-6519). The world's most famous 65-foot pachyderm. View artifacts from Margate and the southern New Jersey area as you walk through this restored historical landmark. Admission $3 adults, $1 children.
OCEAN LIFE CENTER.
Historic GardnerÕs Basin, New Hampshire Avenue and the Bay, Atlantic City (348-2880). A new marine and maritime education and entertainment facility whose mission is to create awareness and appreciation of the wonders of the ocean through live aquatic displays, interactive exhibits and more. Open daily 10am-6pm. Call for admission information.
RENAULT WINERY.
72 n. Bremen Ave., Egg Harbor (965-2111). Oldest vineyard in the United States; wine cellar tours, glass museum, wine tasting, gift shop, gourmet restaurant. Open Mon-Sat 10am-5pm, Sun noon-5pm.
RIPLEY'S BELIEVE IT OR NOT MUSEUM.
1441 New York Ave. and Boardwalk, Atlantic City (347-2001). The quirkiest, most amazing exhibits, including the Jersey Devil skeleton and a roulette table made of jelly beans. Open Mon-Fri 11am till at least 5pm, Sat and Sun 10am till at least 8pm. Admission $8.95 plus tax, $6.95 plus tax for children 5-12, free for kids 4 and under.
BERNIE ROBBINS STADIUM.
Albany Ave. (near Bader Field), Atlantic City (344-SURF). The home of the Atlantic City Surf, an Atlantic League baseball team that plays May through September.
STEEL PIER.
1000 Boardwalk at Virginia Ave, Atlantic City (345-4893). Rides, games and other amusements have returned to the city's world-famous, 100-year-old pier. Mon-Fri from 1pm, Sat and Sun from noon.
STORY BOOK LAND.
Black Horse Pike, Cardiff (641-7847). More than 50 building and displays depicting famous children's stories. Rides, playground, picnic area and petting zoo. Mon-Fri 10am-3pm, Sat and Sun 11am-5pm. Admission $11.50 + tax. Amusements included. Children under 1 free.
THE NOYES MUSEUM.
Lily Lake Rd., Oceanville (652-8848) A permanent display of works by some of southern New Jersey's top artists, an extensive decoy collection, special exhibits. Open Wed-Sun 11am-4pm. Admission $3, $2 for seniors and students, under 12 free. Free admission Friday.
TOWNE OF HISTORIC SMITHVILLE.
Ten miles North of Atlantic City at Rt 9 and Moss Mill Rd., Smithville (652-7777). Restored 18th century village set around Lake Meone. Five restaurants and 60 shops specializing in antiques, gifts, souvenirs, gourmet foods, baked goods, and clothing. Open year-round. Free parking.
THE WALK – ATLANTIC CITY OUTLETS.
Located in the center of Atlantic City, the Walk Outlets are the most visited shopping area in New Jersey. Over 100 Outlet stores to choose from!
Leave Your Comments Here:
User Comments