Casinos
Atlantic City Hotels
AC Area Hotels
Everything Else AC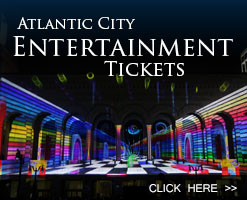 Atlantic City Food and Wine Festival 2013
The Atlantic City 2013 Food and Wine Festival 2013 will be held Thursday July 25th to Sunday July 28th. This festival offers a variety of options for the food and wine lover at a full range of prices. This years featured guest chefs include Iron Chef winner and Food Networks, Robert Irvine, star of Restaurant Impossible, chef Rocco Dispirito and The Neelys', Pat and Gina of Down-home with the Neely's.
Events include the Grand Marketplace at $55 in Bally's Grand Ballroom. Sessions include Fri. from 6-10pm, Saturday from 12-4 and 6-10 and Sunday from 12-4. This Marketplace includes wine and food tasting, free cooking demonstrations and vendors selling gourmet food. This is a fun event, though the lines can be a bit long, it is well worth it.
The Kick-off Party will be held at Harrah's Pool on Thursday from 8-11. This includes a tasting experience of food and wine. On Friday from 7-9pm, Robert Irvine will be cooking a 3 course gourmet meal at Arturo's at Bally's Hotel Casino for $150. On Saturday 27th see Robert again from 9-10pm at Harrah's Concert Venue for a live 60 minute cookingdemonstration for $50. Robert will also be at Caesar's Diamond Lounge on Sunday for Morning Coffee with Robert Irvine. Sample many different coffees and teas for $40.
Pat and Gina Neely from Down-home With the Neely's will be hosting a BBQ at Showboats House of Blues on Saturday 27th from 12-3. Beer, ribs and chicken and all your Bar-b-Que favorites for $75. Also on Saturday, the Neely's  will perform a live cooking demonstration at Harrah's Concert Venue from 5-6pm for $50. To round out the weekend for the Neely's there will be a Gospel Brunch at Showboat's House of Blues on Sunday for $60.
Chef Rocc Dispirito will be at Casa Di Napoli on Saturday 27th from 12-2 for a live cooking demo and lunch with delicious food and wine selections for $99. On Saturday from 12-1 there will be a Wine Tasting at Mia at Caesar's for $45. This is a tasting and class about wines. Phillips Seafood Restaurant at The Pier at caesar's will host a 4 course dinner including their signature drink and a cooking demo for $69. This is a deal. On Saturday from 4-5 there will be The Rock of Ages-Cocktails Through the Decades, featuring classic and contemporary cocktails for the home bartender. Includes tastings for $45 at Mia at Caesar's. Saturday evening from 10-11 is a Beach Soiree at caesars Beach featuring all the featured chefs, Irvine, the Neely's and Dispirito for a beachside party featuring cocktails and appatizers for $75. The weekend ends with an Island Luau with the Neely's at Harrah's Pool from 6-9pm with Hawaiian food, drinks and entertainment for $125.  This is always a very special weekend in Atlantic City. tickets for all the events can be purchased at www.atlanticcityheadliners.com
Leave Your Comments Here:
User Comments