Casinos
Atlantic City Hotels
AC Area Hotels
Everything Else AC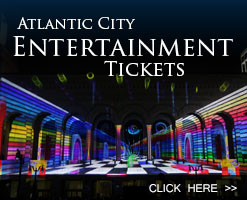 Atlantic Palace Suites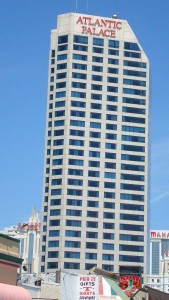 Atlantic Palace Suites
No Comments
The Atlantic Palace Suites is a 31-story condo/hotel that is beachfront to Atlantic City's popular sandy beaches. Whether you are trying to find a home away from home or an exciting weekend getaway, the Atlantic Palace Suites is the perfect place to do so. Overlooking the Boardwalk and beach and also in the heart of the nightlife, the Atlantic Palace Suites is the ideal property for a romantic home away from home or a night to remember (being surrounded by numerous casinos). With so many different perks to offer, this property is absolutely a steal for those who want the complete Atlantic City experience.
Amenities
Studio Suite (2 person maximum)
One queen sized bed or two singles for sleeping arrangements make this room ideal for the simplistic person who doesn't need all of the extras. This room includes cable TV, a very nice flat screen tv, an alarm clock to keep your day in check, and an amazing view of the beach from your window. Moving on to the bathroom, you are equipped with a spacious whirlpool hot tub, a hair dryer, and all of the normal bathroom necessities such as soap, towels, etc. The room is also fit with a nicely equipped kitchenette and wifi is available for an additional charge.
One Bedroom Suite (4 person maximum)
With one private Queen sized bed in its own bedroom and one full sized bed in the living room, it is perfect for a getaway with friends, a couple +1, or a small family. The large living room houses a double bed, along with an amazing view and a sitting area to relax after an awesome time on the town. A huge flat screen is provided with cable, as well as an alarm clock, and Wifi access is also available at an additional charge. A spacious and fully equipped kitchen and dining area make you feel like you are at home during your stay. The bathroom is jam-packed with a whirlpool hot tub, a separate walk-in shower, and a hairdryer as well. This is the ideal upgrade for the person or small group that wants a little extra out of their stay.
Two Bedroom Suite (6 person maximum)
This room is just awesome! With a fully equipped kitchen and dining area, as well as two private bedrooms, there is more than enough space here. The master bedroom provides you with a queen sized bed, flat screen tv, alarm clock, and a private bathroom with a whirlpool hot tub to relax in after a long day. The guest bedroom also provides you with a queen bed, a flat screen tv, and alarm clock. The living room also contains a flat screen tv and a queen sized pull out sofa bed, making it extremely ideal for having extra guests spend the night. A main full bathroom is also included and is stocked with soap, towels, a hair dryer, an iron, and an iron board. Wifi is also available in this room for an additional charge. Make your stay one to remember with this loaded room.
Penthouse (4 person maximum)
This penthouse is to die for! This open floor plan is filled with mirrors so you can fully grasp your surroundings and take in the amazing views around you. It includes a master bedroom with a private bathroom that includes a whirlpool hot tub as well as towels, soap, and a hair dryer. A guest bedroom adds for additional guests as well. The second bathroom has a wonderful walk-in shower and also includes the same perks as the master bathroom minus the hot tub. The kitchen (fully equipped) is very modernized and spacious and looks very nice next to the modern dining area. Flat screen TV's are in every bedroom, as well as in the living room. Alarm clocks are in both rooms and an iron and iron board are also included. Wifi is also accessible at an additional charge. Go all out and make this room yours today
Amenities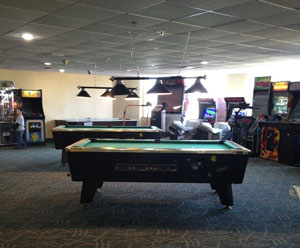 On the third floor, you are graciously rewarded with a game room filled with video games, vending machines, and pool tables, a fitness room, a hot sauna and steam room, and restrooms. There is also a Garden/Sun Room that houses furniture and tv's so can relax in peace and quiet.
The outdoor recreation plaza, which is seasonal, has an amazing pool which is open from Memorial Day to Labor Day, an indoor hot tub, and massive space filled with tables and chairs for soaking up the sun on a beautiful day. You get amazing views of both the ocean and the boardwalk and there is direct access to the boardwalk from the main floor, so you can dive right into the action.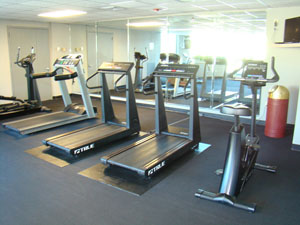 Restaurants
Location
Leave Your Comments Here:
User Comments