Casinos
Atlantic City Hotels
AC Area Hotels
Everything Else AC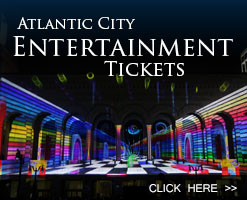 Beaches
Atlantic City is well known for it's clean, free beaches. For over 140 years people have flocked to our beautiful beaches to enjoy the sun and surf and to escape hectic city life. There are 50 beaches along the Atlantic City Coast, all free. Lifeguards are on duty from 10am to 6pm from July 4thto Labor Day.  There are some beaches with extended coverage from Memorial Day to Sept. 30th.  Atlantic City was the first city to offer lifeguards back in 1892. Take advantage of this free service and do not swim on an unprotected beach and never swim alone or while intoxicated.  There are 11 district lifeguard stations throughout the city at Caspian Ave., New Hampshire Ave., States Ave., South Carolina Ave., Kentucky Ave., Michigan Ave., Mississippi Ave., Texas Ave., Chelsea Ave., Albany Ave., and Bartram Ave. At these stations you will find outdoor shower and most have public restrooms. Grilling on the beach is only allowed Memorial Day, July 4th and Labor Day and you must use a charcoal grill only.
Surfing in Atlantic City is located at 3 designated beaches, Crystal beach at New Hampshire Ave., Delaware Ave beach and Downtown beach at Raleigh Ave. There are no lifeguards on duty at these beaches, so surfing is at your own risk. Please surf responsibility and come with a friend.
Kayaking and Winsurfing are both permitted at the Jackson Ave. Beach. There are no lifeguards at this beach but it is a no swimming zone to allow easy access for entry into the water with kayaks and windsurfers. There are no rentals at this location so you must bring your own equipment.
Fishing is promitted only off the jetty at Maine Ave. and the Boardwalk.  You may fish off the beach before 10am or after 6pm. No fishing liscence is required. Be careful when walking on the jettys as they are very slippery and can be dangerous.
There are 11 handicapped accessible beach accesses in Atlantic City. These locations offer ramps to easily access the beach and Boardwalk. You can rent handicapped surf chairs free of charge on a first come, first served basis by calling 609-347-5312
Leave Your Comments Here:
User Comments