Casinos
Atlantic City Hotels
AC Area Hotels
Everything Else AC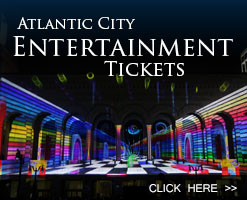 Best 10 Atlantic City Buffets
Best 10 Atlantic City Buffets
All the Atlantic City Casino properties offer a buffet except the Revel Casino Resort. Unlike Las Vegas, where you can go to a buffet for $3.99, Atlantic City buffets are a little more pricey, but they are a great deal and offer a large variety of choices. Here are my votes for the Best 10 Buffets in Atlantic City.
Harrah's-The Waterfront Buffet at Harrah's buffet is one of my favorites. Not only is the food very delicious, there is a massive variety and the restaurant is lovely. It is open for dinner nightly from 5pm. Try to get a table near the windows that look into The Pool, which is a tropical wonderland. The buffet features a variety of hot and cold entrees, cooked to order steaks, custom made pasta dishes, sushi, fresh raw and cooked seafood, Asian food station, salad station and dessert station. In the summer they offer a brunch on the weekends with omelets, pancakes, eggs benedict and fresh raw and cooked seafood. Brunch $15.99, Dinner $27.99
Borgata-The Buffet at Borgata is open for breakfast, lunch and dinner daily. They offer a large variety of food, fresh raw and cooked seafood, Asian food, carving station, salads, hot entrees and a large dessert station. The food is always fresh and the wait staff is efficient and pleasant. I'll just say it, the food is the best. A little pricey, but well worth the price. B-$13.95, L-$17.95, D-$27.95
Tropicana-The Fiesta Buffet is Tropicana Resorts Buffet option. The buffet is open for breakfast and dinner Mon-Friday and breakfast, brunch and dinner on the weekends. There is an American, Asian, Italian and Meat Carving station as well as fresh salads and desserts. Request a table at the window for a breathtaking view of the beach and ocean. Breakfast $18.95, dinner $$24.95
Resorts-The Resorts Buffet is open Monday-Saturday from 12 noon and on Sunday from 9am. The Italian inspired buffet features wonderful Italian entrees as well as American and Asian classics, fresh carved meats, all you can peel and eat shrimp and a variety of delicious desserts. Price is great at $19.95 or you can add all you can eat snow crab legs for $10.00 more. Food is good as is variety.
Trump Plaza-Back in the Day Buffet at the Plaza is the best priced buffet in Atlantic City. The buffet is $9.95 or $7.95 for Trump One card members. The buffet offers all the regular staples including a carving station, hot entrees, salads and desserts. For the price the food is good and the options are plentiful. Open for lunch and dinner daily.
Caesars-The Boardwalk Buffet offers a variety of stations including Italian, Asian, American, South of the Boarder. The buffet is open daily from 9am to 8pm on the third floor of Caesars. Breakfast starts at $15.99 for Total Rewards members, lunch at $18.99 and dinner $29.99. On Saturday and Sunday or $5 more at dinner, you get filet mignon, wine tastings and a larger seafood selection. This is worth the extra $5.
Taj Mahal-Sultan's Feast is Taj Mahal's buffet venue. The buffet is open for breakfast, lunch and dinner and features steak, rotisserie chicken and pizza station as well as all the buffet staples. Food and atmosphere are good but there always seems to be a long line. Breakfast at $14 and dinner $21.
Showboat-The French Quarter Buffet is a massive venue but the food does not suffer with the size. This is a favorite of mine for the selection and quality of food as well as the Mardi Gras atmosphere. There are special seafood and New Orleans inspired dishes, pizza, prime rib and the best salad bar in town. Lunch is $17.99, dinner $21.99 and on Friday and Saturday they offer a land and Sea dinner for $29.99 which includes all you can eat crab legs and fresh fish.
Golden Nugget-The Buffet at the Golden Nugget is an improvement from the buffet that existed when it was Trump Marina. The buffet is open for breakfast, lunch and dinner daily and features many food stations with hot and cold items, fresh seafood and salads and desserts. B-$12.99, L/ $17.99 and the Friday and Saturday night Seafood Buffet is $24.99. The seafood buffet features a huge variety of dishes and fresh seafood. A great deal for the price.
Atlantic Club-Cornucopia Buffet at Atlantic Club Casino is a great deal for the money. Open daily for lunch and dinner (except for Monday), the buffet offers 4 distinct stations, Soup and Salad, Seafood and Carving, Entrees, Starches and Veggies and Desserts. Unique items include steamed clams, ribs and bar-b-que chicken. For the summer, Friday and Sunday night, from 12pm to 8pm, earn $1 in comp from slots or table games and get a free buffet. Regular price for lunch/dinner $18.99.
OK, so here are my picks for the best 10 Buffets in Atlantic City. Hope this helps you next time you want to visit a buffet in AC.
Leave Your Comments Here:
User Comments