Casinos
Atlantic City Hotels
AC Area Hotels
Everything Else AC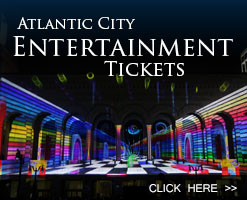 Best Atlantic City Casino
Best Atlantic City Casino
Which is the best Atlantic City Casino?  Well, that depends on what you are looking for in a casino property. Is being on the Boardwalk with an ocean view a priority? Do you prefer the Marina properties? Do you like big and flashy or is small and intimate what you crave? Each person has their own best Atlantic City Casino, but my choice is Borgata.
Why is Borgata my favorite Casino?  Variety. Borgata has over 2,000 rooms/suites in the main property and 800 at The Water Club. The main buildings rooms/suites are lovely and because the building faces east/west, all the rooms have a great view. If you want a more boutique hotel feel, then The Water Club is for you. Their rooms are elegantly appointed and the views are great.
Gaming-Borgata has all the most popular slot machines including video multi-lines, novelty, progressive, poker and reel. They have all the tables games you could want including blackjack, Pai Gow, flop poker, craps, Texas Hold 'Um, Roulette, Let It Ride, Caribbean Stub Poker, Baccarat, mini-baccarat, 3 and 4 card poker, Spanish 21, and Big Six. Their poker room is the largest in Atlantic City with 85 tables.  The My Borgata Rewards Program is terrific. You can use your comps for rooms, meals or shopping. You get double your comp value when you use your comps in the Borgata stores.
If dining is important to you, Borgata has 5 fine dining options including Bobby Flay Steak, Old Homestead, Izakaya, Fornelletto, and Wolfgang Puck's. For casual dining they have one of the best Buffets in Atlantic City, Metropolitan, which is one of my favorite comfort food restaurants, Bread and Butter, NOW, Roma and The Sunroom. There are also 7 eateries at their Food Court.
For nightlife and entertainment, Borgata can't be beat. Their Music Box Theatre hold an intimate 1,000 guests, while the Event Center hold 3,700 of our closest friends. The biggest names in music and comedy perform here year round.  MurMur, MIXX, Gypsy Bar, B Bar, Level 1 and the Sunbar offer whatever bar experience makes you happy from high energy dance music to local bands.
There are not one but 2 different spa experiences at Borgata/The water Club. Spa Toccare is Borgata's spa and offers all variety of spa services, a salon, pool and gardens and a gym. The Immersion Spa at The Water Club is located on the 32nd and 33rd floor and the 360 views of the city are breathtaking. This spa also offers a pool, gym and all salon and spa services. I like Immersion a little better.
Shopping-If you love shopping, you will love Borgata. Shops include Whim, Misura, Carina, Borgata Jewels, Borgata Collection, Ciao and Essentials. At the Water Club there is Hugo Boss, Vintage, and Just Cavelli.
I like the crowd that Borgata attracts….young, hip, fun. Not a casino full of 90 year bus people. This is a great property for people watching. So to sum it up Borgata is my pick for Best Atlantic City casino. Check it out for yourself.
Leave Your Comments Here:
User Comments