Casinos
Atlantic City Hotels
AC Area Hotels
Everything Else AC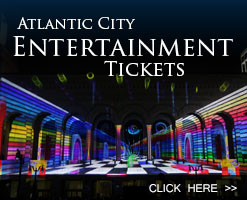 Best Deals in Atlantic City
Best Deals In Atlantic City
Finding a great deal on a room in Atlantic City isn't hard if you know the secrets that travel professionals don't want to tell you. The peak time of year for Atlantic City is the summer months, especially July and August, but you can get save money by visiting during the week instead of weekends. Summer weekday rates at casino properties like The Tropicana and Showboat, run as low as $120. Yes, weekend rates can be steep with popular casino hotels charging in the mid $400 range for a summer weekend room.  Smaller chain hotels can save you money all year round, so if you are on a budget consider booking there.
It is amazing weather in Atlantic City in spring and fall, especially in September and October. It is still warm and the beaches are crowd free and many Atlantic City beaches have lifeguards on duty. The spring and fall rate are much lower and you can get a wonderful casino hotel room for under $100.
If being right in the heart of the Atlantic City action isn't important to you and don't plan to spend much time in your room, the best Atlantic City hotel deals are found at hotels and motels off Atlantic City island in the nearby towns of Absecon, Galloway and Egg Harbor Township. All these properties run great hotel specials and many also include shuttle service to Atlantic City and breakfast. These hotels are a short 5-15 ride to Atlantic City.
As a special incentive, call our reservation service at 1-866-790-9938 and mention our special 10% off deal if you book for 2 or more nights. This is a great way to save on your next trip to Atlantic City. I know this insider information on booking a room in Atlantic City will save you money.
Leave Your Comments Here:
User Comments