Casinos
Atlantic City Hotels
AC Area Hotels
Everything Else AC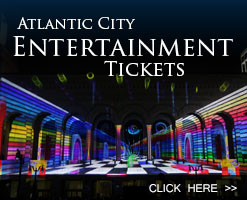 Boardwalk Burger-New at Tropicana Casino Resort
A new restaurant opened up in May in The Quarter at Tropicana Casino Resort. Boardwalk Burger is a chain property that filled the space where Red Square used to be. I went there this weekend and was pleasantly surprised. The restaurant is nicely decorated and well lite. There is plenty of dining space and there is a large bar serving 60+ craft beers on tap daily. They specialize in burgers which start at $10.00. Burgers come plain and you make your own creation from a large list of toppings. Their Hubcap Burger is a 24oz burger that my son attempted to devour, without success. It was huge but surprisingly delicious.
I had the Short Rib sandwich which was wonderful. All sandwiches come with a heaping portion of fries, homemade cole slaw or a mixed green salad with a tasty vinegrette. Appetizers include salt and pepper fried calimari and crabmeat cocktail for about $10-$14, and salads about $14 including Caesar, and Apple and Cranberry.
They have designer mac and cheese in a small or large size. The Lobster mac and cheese was fantastic. They also have designer Yukon Gold mashed potatoes or mashed sweet potaotes with a variety of toppings in a small or large size.  try the yummy homeade chocolate chip ice cream sandwhich with real vanilla bean ice cream. Our server was very pleasant. We had reservations, but before 7pm, I don't know if it is necessary. This place is a definite "do again".
Leave Your Comments Here:
User Comments