Casinos
Atlantic City Hotels
AC Area Hotels
Everything Else AC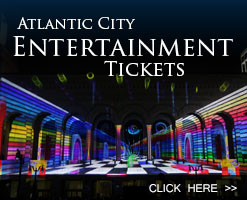 Caesars Atlantic City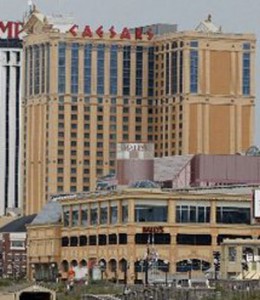 Caesars Atlantic City
No Comments
From the minute you walk into the ornate lobby, you know your visit to Caesars will be special. It is like stepping back in time to an ancient Roman palace adorned with marble, granite columns and statues. The property has over 548 rooms in the main hotel and 610 rooms in the tower, plus 8 sumptuous restaurants and 3 high energy clubs. With over 145,000 sq. ft. of casino space, you will find over 3,000 slot machines, 135 table games and an Asian Gaming room and Poker room. If you happen to tire of all fun inside the property, just step outside to the World famous Boardwalk. Situated directly on the beach, and Boardwalk, with incredible views of the ocean, Caesars is right in the middle of all of the Atlantic City action. Don't forget to check out The Pier Shops at Caesars, a 4 story restaurant and shopping pier jetting out into the ocean, featuring many high end retailers as well as a great variety of restaurants. be sure to walk out to the end for some amazing pictures of the Boardwalk.
Amenities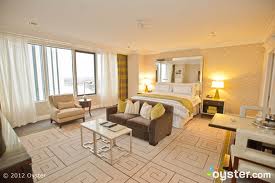 Deluxe room-This room provides contemporary design and luxury. A large mosaic tiled bathroom, stand up shower and granite countertop.
Luxury Room-Beautiful views of the Atlantic City skyline. Here is a wall mounted flat screen TV with surround sound as well as a tiled foyer and cozy seating area.
Premium room-These rooms have ocean or city views through large bay windows. There is a wall mounted flat screen TV with surround sound. The large bathroom is accessed through a green glass sliding door and is equipped with it's own TV. There is a tiled foyer and seating area.
Senator Suite-This 750 square foot luxury suite features oversize bay windows with ocean views, a living room, dining room, wet bar and large flat screen TV. The bathroom boasts custom granite countertops, marble shower, whirlpool tub and double sinks.
Qua Spa-Qua offers 14 treatment rooms in a luxuriously tranquil setting providing guests with massages, facials, mani-pedis 3 spa pools, a tea sommelier and steam and sauna rooms.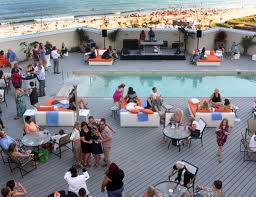 Pool-Caesars' has a seasonal rooftop outdoor pool. The pool is open to adult guests over 21 only.
Beach-Caesars sits atop one of the nicest beaches in the city. They offer rentals of beach chairs, umbrellas and tents for hotel guests. Seasonally only.
Restaurants
Tazza-24 hour casual counter service with sit down area featuring coffee, teas, salads, sandwiches and desserts.
Atlantic Grill-This elegant steak and seafood restaurant offers breathtaking views of the ocean and boardwalk. The Grill offers a wonderful raw bar and sushi bar. Open for dinner only. Closed Weds/Thurs.
KWI Restaurant and Noodle Bar– This restaurant offers a modern Asian flair to fresh seafood and noodle dishes. Open 7 days a week.
Café Roma-Light casual dining with open ocean views serving salads, sandwiches, beverages and desserts. Open 24hours.
LaPiazza-Caesars casual buffet open weekends for breakfast, lunch and dinner and weekdays for lunch and dinner. The buffet offers a large variety of meats, seafood, pastas, salads and desserts.
Mia-Chefs Georges Perrier and Chris Scarduzio offer up elegant Italian and Mediterranean fusion cuisine at Mia. Choose a full plate experience in the restaurant or small plate portions at the bar. Open Wed/Sat. There is DJ music on Friday and Saturday nights.
Morton's Steakhouse-Morton's Steakhouse is world renown for it's excellent cuisine in a classic steakhouse atmosphere. Morton's offers USDA prime meats, fresh fish and tasty side dishes to please any pallet. Open 7 days for dinner only.
Nero's Tuscan Steakhouse-This elegant Oceanside restaurant is set in an old Italian setting fusing a classic steakhouse with a fine Italian bistro. Prime steaks, fresh seafood and an extensive wine list complete the package. Nero's is different because their philosophy is to use only fresh, organic, locally grown ingredients. Open Fri/Sat for dinner.
Nightlife
Dusk Nightclub-Dusk is a 10,000 square foot, multilevel dance club featuring non stop action. DJ's and live music on weekends.
21 bar-This bar offers incredible ocean views, an outdoor patio and one of the most varied martini menu in town. This bar offers a more relaxed, casual getaway.
Toga-DJ's and VJ's keep the music pumping in this late night club featuring VIP table and bottle service and a huge video screen at the dance floor. Open Fri/Sat.
Boardwalk Beer Garden-This seasonal option offers a relaxed bar right on the boardwalk, featuring one of the best beer selections in the city.
Location
Leave Your Comments Here:
User Comments