Casinos
Atlantic City Hotels
AC Area Hotels
Everything Else AC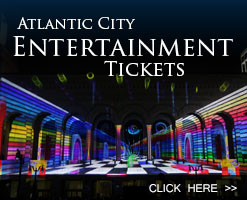 Frequently Asked Questions About Atlantic City
Atlantic City's Frequently Asked Questions
*What is the legal gambling age in Atlantic City?  You must be 21 years of age to gable in Atlantic City. The casinos are serious about underage gambling so don't think about gambling if you're not 21. You can be carded while in the casino by security staff.
*What is the legal drinking age in Atlantic City?  The legal drinking age in New Jersey,  hence, Atlantic City s 21. Most establishments will ask for ID from anyone ordering alcohol, so be prepared.
* Can those under 21 go into the casino? While you must be 21 to gamble in Atlantic City, those under 21 may enter the casino, but only with a parent and only to get from point A to point B. For example, if you are staying at a casino hotel and need to get from your room to the Boardwalk, minors can walk on the casino floor to get where they are going. There is no loitering and no standing behind mom or dad while they gamble. Also minors are not permitted to be left alone in public areas including arcades.
*How long is the Atlantic City Boardwalk? The Atlantic City Boardwalk was built in 1870 by Atlantic City hotel owners as a way to keep sand out of their hotel lobbies. This has paved the way for today's Boardwalk which runs about 4miles from end to end along the beautiful Atlantic Ocean.
*How many casinos are there in Atlantic City? There are currently 12 casinos in Atlantic City…Revel, Showboat, Resorts, Trump Taj Mahal, Trump Plaza, Bally's, Claridge, Wild West, Caesars, and Tropicana, all located on the Boardwalk and  Borgata, Harrah's, Golden Nugget located on the water in the city's Marina District.
*Can you dock a boat in Atlantic City?  Yes, your best bet is the Frank S. Farley Marina, located at the Golden Nugget Casino Resort. They offer 630 floating slips for vessels up to 300 ft. long. There is electric, water and cable hook ups available. Long. 74 25' 39", Lat. 39 22' 45". Contact the Marina for rates and reservations at 1-800-876-4386 but rates start at about $100 per night. Harrah's Casino Resort has 65 slips at its marina for boats up to 125 ft. Call 609-441-5000 for reservations and prices.
*Can pets be on the Boardwalk? Pets are not permitted on the Boardwalk and they are only permitted on the beach during the off season. All pets must be leased.
*Can I ride my bike on the Boardwalk? Bike riding is only permitted on the Boardwalk between the hours of 6:00am-10am during peak season of May 15th to Sept. 15th and then from 6am to noon and 4pm to 7pm the rest of the year. Rentals are available at the Boardwalk at resorts and Tropicana.
*How do I get to Atlantic City? It is easy to get to Atlantic City by car, plane, train or bus. Check out our transportation page at http://atlantic-city-online.com/getting-to-atlantic-city/
*Where do I park in Atlantic City? If you are visiting a casino or hotel, it is best to park in their parking garage. Costs run $5 to up to $30 during high season and holidays. There is free street parking away from the casinos, but safety is not assured. There is The Wave parking garage at The Walk Outlets which runs $3 for the first hour, $7 for 8 hours or $10 for 24 weekdays and on weekends $3 for first hour, $10 for 8 hours or $13 for 24 hours. This is safe and centrally located right off the AC Expressway. They also have a parking lot next door for larger vehicles. Boardwalk Hall has an underground lot, there is South Jersey Transportation lot on Mississippi Ave and New York Aves. plus plenty of privately owned lots. Be careful of the private lots as their rates change frequently.
* Are there babysitting services available in Atlantic City? Casino hotels and chain hotels can give you the names of reputable babysitting services they use on a regular basis. I do not suggest you find a service on your own.
* What's the best way to get around the city? The city is only 17 square miles, so getting around is easy. The Boardwalk will get you to all but 3 casino properties. You can walk or take a rolling chair ride. Rolling chairs became popular in the early 1900's. They are carts with a surrey top, pushed by rolling cart operators. Cost run about $10 for a few blocks. Some operators will give you a rate for a ½ hr. be sure to negotiate your rate before the ride starts. Tips are not included. Be sure to use an operator that has an Atlantic City mercantile License to avoid problems. To get from place to place, you can use a jitney. A jitney is a small multi-passenger van that runs up and down Pacific Ave., which runs along the Boardwalk and over to the Marina section of the city. This is a very popular mode of transportation for casino employees and runs 24 hours a day. This safe ride cost $2.25 per ride per person and you can get a jitney at any corner of Pacific Ave. I you park at a casino garage and want to leave for another casino, be sure to ask for a receipt. Your receipt will get you free parking at any other casino for a 24 hour period.
*Does it cost to use the beach in Atlantic City? Unlike most beach towns in New Jersey, the beaches in Atlantic City are free. Check out our beach information page at http://atlantic-city-online.com/beaches/
*I know Atlantic City is famous for gambling. What is there to do with kids? Atlantic City can be family friendly, you just have to know what to do. Check out 10 Things to Do With Kids in AC at http://atlantic-city-online.com/top-10-things-for-families-to-do-in-atlantic-city/. All those local hotels, motels and casinos except The Water Club Hotel at the Borgata, accept families with children. Some casinos offer limited hours for kids at their pools. Check with your property before reserving a room so the kids aren't disappointed.
*How Many People Visit AC each year? Each year over 25 million people visit Atlantic City and enjoy its world famous beaches, Boardwalk and casinos.
* Is there golfing in Atlantic City?  Though Atlantic City doesn't not have a golf course, there are 4 wonderful courses within 10 minutes of AC and 11 within a 30 minute drive. The Stockton Seaview Resort and Country Club is the home to the Shoprite LPGA Tournament every June.
* What weather can I expect in Atlantic City? Weather in Atlantic City varies to summer sun and heat in the 90's to winter snow in the 30's. Check out our weather page for a 7 day weather forecast and high/low temperature ranges throughout the year. http://atlantic-city-online.com/weather-in-atlantic-city/
* A friend got married in Las Vegas on a whim; can you do that in Atlantic City? Sorry, Atlantic City falls under New Jersey State law which requires a 3 day waiting period for a marriage license. If you are a resident of NJ, you must apply for a license at the municipality of either the bride or groom. If you live outside NJ, you must apply in the city where the ceremony will take place. To apply you must have photo ID, SS card, a witness 18 or older and a $28 application fee. It is helpful to bring with you any divorce decrees, death certificate of former spouse if applicable and a copy of the bride and grooms birth certificate. You can get married on the beach but you must get a permit through the City of Atlantic City at 609-343-6326. Many hotels and casinos offer wedding packages for large or small weddings.
Leave Your Comments Here:
User Comments