Casinos
Atlantic City Hotels
AC Area Hotels
Everything Else AC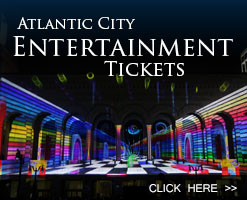 Top 10 Restaurants in Atlantic City
Having lived in the Atlantic City area for the last 30 something years, I have had the pleasure to eat in some amazing restaurants in the area. Though there are some great casino restaurants, here is my list of the top 10 restaurants in Atlantic City and its surrounding areas.
Chef Vola's  111 S. Albion Place, Atlantic City
For years you had to know someone who knew someone to get a reservation at Chef Vola's. It is still tucked away in the basement of a small side street in the city, but it is now more popular than ever. The James Beard Winner in 2011, Chef Vola's features fine classical cuisine run by a husband, wife and their kids. They serve fresh fish and aged beef as well as classic pasta dishes. Their rack of lamb is probably the best I have ever tasted. Their homemade desserts will leave you wanting more. Be sure to try the homemade banana cream pie and ricotta cheese pie, made daily by the owners wife. This restaurant is BYOB and cash only. Don't be surprised if you see a celebrity when you visit. Reservations are a must.
Dock's Oyster House  2405 Atlantic Ave., Atlantic City
Dock's Oyster House has been a staple in Atlantic City since 1897. They have an incredible raw bar featuring over 10 varieties of oysters from up and down both coasts. You can pick your own lobster from their tank and pay per pound. Their pecan crusted salmon is one of my favorites. There is free parking in the lot next door. Open for dinner daily.
Knife and Fork   3600 Atlantic Ave., Atlantic City
The Knife and Fork was a popular spot in Atlantic City since the turn of the century. They specialize in fresh seafood and steaks. I love their NJ Special Dinner, which consists of corn and crab chowder, Fresh jersey tomato and buffalo mozzarella salad a one pound lobster thermidor with a 6 oz. filet mignon. All amazing tastes of the Jersey Shore. For dessert I can recommend the chocolate mousse bombe or the fruit and cheese tray.
Steve and Cookies By the Bay   9700 Amherst Ave., Margate
Located just an easy 15 minute drive from Atlantic City, Steve and Cookies has been a favorite with locals for many years. Their menu changes with the seasons, but some of my favorite dishes include the double stuffed pork chop, stuffed with granny smith apples, bacon, and farmhouse white cheddar cheese and served with mashed sweet potatoes. Or try warner's Bouillabaisse. Desserts not to miss include their fresh mango sorbet and lemon mousse pie. There is a full raw bar and cocktails. Try their 4 tastings of Sandeman's Port-10 yr., 20 yr., 30 yr. and 40 year old port served with fruit and chocolate.
Café 2825    2825 Atlantic Ave., Atlantic City
Café 2825 is a hidden gem right on Atlantic Ave. in front of the Tropicana Casino Resort. They serve Northern Italian specialties including a mouthwatering Caesar salad made tableside. Their Branzino is a favorite and features oven roasted Mediterranean Sea Bass with fresh herbs, lemons and olive oil de-boned at the table. They have a great selection of pasta dishes all that can be served as small plates. Parking next door, full bar.
Oyster Creek Inn   41 N. Oyster Creek Rd., Galloway
Oyster Creek Inn is a peaceful 20 minute ride from Atlantic City. A favorite of locals from all over the area, this funky seafood restaurant never disappoints. Serving fresh seafood for over 70 years, oyster Creek is situated on the Oyster Creek, with amazing views of the Atlantic City skyline. Eat casually in the crab room located on the water or sit in the dining room. Must try's: the crab bisque, Chef Scott's salmon, which is a filet of salmon stuffed with brie and crab, topped with asparagus, served over wild rice with a balsamic butter sauce. My mouth is watering thinking about it. Also try the day boat halibut topped with crab and fresh bruschetta. The crab room only serves crabs, lobster and snacks. Live music most weekends in season.  They also have a new sushi bar and cocktails. Try the frozen rum runner…don't let its small size fool you, it packs a punch!
Angelo's Fairmount Tavern   2300 Fairmount Ave., Atlantic City
Run by the same family since 1935, Angel's serves traditional Italian food for lunch and dinner. Start out with an antipasto for the table, fresh bread made down the street and enjoy any of their pasta, seafood or meat dishes. All their steaks are a 16 oz. cut. My favorite is the Steak Maryland, a 16 oz. steak topped with jumbo lump crabmeat, and blue and gorgonzola cheese. Full bar available. Adjacent to the Walk Outlet Mall with free parking next door.
Tomatoes   9300 Amherst Ave., Margate
Just a 20 minute drive down beach in Margate, Tomatoes has made a name for itself for fine food and sushi. It is across the street from the bay and offers free parking. I love their Euro Chicken, which is a pan seared chicken breast with cippolini and pancetta ragout, and served with truffled mac and cheese. Comfort food at its finest. Also love their Cuban pork chop- a 12oz chop rubbed with spices and served with a pumpkin gnocchi. They have some of the best sushi in the area and wonderful desserts.
Sage   5206 Atlantic Ave., Ventnor
Sage is a quick 10 minute drive along the ocean to Ventnor. This intimate restaurant is run by Chef Lisa Savage and serves amazing food. I love the Sesame Crusted Tuna brushed with sweet and spicy mustard and served with ginger and wasabi over Asian veggies. Their scallops are pan seared and topped with shaved brussel sprouts and shitake mushrooms, an apple cider reduction and a truffled potato croquette. Sage is a cash only establishment and BYOB.
And last but not least, my 10 Best Atlantic City restaurant is…..
 Joe's Maplewood Inn    6126 Black Horse Pike, Mays Landing
So it's a rainy day in Atlantic City and you head out to Mays Landing to the Hamilton Mall area and you want dinner. Yes, there are droves of chain restaurants, but there is also Joe's Maplewood. This family run restaurant has been serving locals fresh homemade Italian specialties for years. My favorites, Cousin, which is crab and lobster in a white wine butter sauce served over pasta or Joe's Special which is shrimp, crab, clams, mussels and scungelli served in their natural juices over pasta. You have a choice of imported or homemade pasta for all dishes…take the homemade. There is nothing like homemade pasta. Dinners include house made salad and garlic bread. Sangria by the pitcher is must! Well worth the 3o minute ride.
Leave Your Comments Here:
User Comments