Casinos
Atlantic City Hotels
AC Area Hotels
Everything Else AC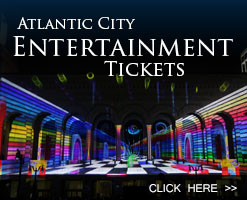 Top 10 Things For Families To Do In Atlantic City
1. Atlantic City Aquarium-The Ocean Life Center, located at Gardner's Basin, 800 New Hampshire Ave, Atlantic City offers a day of educational fun for the whole family. Open daily from 10am to 5pm, there are a variety of exhibits and hands on attractions. Exhibits include The Baby Stingray Touch tank, a 900 galleon tank of baby rays. Feeding time is 12 and 3pm daily. The Clownfish and Anemone Tank featuring Nemo and his anemone friends, Diamond back Terrapin Territory, The Exotic Animal Show daily at 2pm featuring Boas, Bearded Dragon lizards, tarantulas and other creepy creatures. Check out the 25,000 galleon Fish of the Mid Atlantic Tank which features many local fish who call the waters off the beach home including sea bass, sand sharks, rays loggerhead turtles and horseshoe crabs. There is a diver feeding the sea life daily at 11 am. There are exhibits of jellyfish, coral, pirahana and seahorses as well as the very popular Shark touch Tank with Bamboo and Marble Sharks. Views  from the outdoor terrace area are not to be missed.
2. Lucy The Elephant-Lucy, a National Park Historic Site was built i n 1881 as a gimmick to draw potential visitor and real estate investors to Atlantic City. This 65 foot tall elephant has been used as a hotel, rooming house and private home before it was moved down beach to Margate in 1970. Having survived many coastal storms and hurricanes, it was renovated and is now a museum. The park houses Lucy, with a museum in her belly,a gift shop, concession stand and bandstand. Be sure to go up to the Howdah for amazing views of the beach and ocean. Tickets are $8 for adults, children 12 and under $4, children under 2 and active military are free. open Spring anf Fall W/T/F 11-4, weekends 10-5 and daily in the summer 10-5. 9200 Atlantic Ave, Margate.
3. Steel Pier-Originally built in 1989, the Pier is now an amusement attraction featuring over 20 rides, an arcade and food vendors. Located at 1000 Boardwalk across from Trump Taj Mahal, the pier is open April-June Fri/Sat/Sun from noon, summer Mon/Fri from 1pm and weekends from noon to 1am. Tickets are pay as you go but Thursdays are all u can ride wristband day for $40 adults and $30 kids.  Check out The Rocket which shoots you up 225 feet in 1.5 seconds ($20 PP) or take a scenic helicopter ride up the coastline for $40 PP.
4. Atlantic City Cruises-Located at Gardenr's Basin, 800 New Hampshire Ave., Atlantic City. AC Cruises offers daily cruises up the coast including a Morning and afternoon 1 hour cruise at 11am and 4pm. Adults 17, Military and Seniors $14 and kids 5-15, $8.50. There are 2 hour dolphin cruises daily during the summer at 1pm and weekends fall and spring for $34 for adults, $29 seniors and military, Kids $18. There are Happy Hour Cruises at 6pm and Cruise and Cocktails, featuring an open bar of beer, wine and cocktails for $30 for adult 21 and older
5. Rainforest Cafe-This fun eating establishment is a must go for the kids. A family friendly restaurant featuring animated rain forest creatures on a 30 minute loop. You" see the animals interact and hear the sounds of the forest including a thunder and rainstorm. Food includes, appetizers, salads burger,sandwiches and entrees. Don't leave without trying the Brownie Volcano, a volacc=ani shaped brownie topped with ice cream delivered to your table with a lite sparkler. Will feed up to 4 and kids love it. There is also a gift shop and several large exotic fish tanks.
6. Atlantic City Lighthouse-The lighthouse, built in 1857 as a warning system for ships traveling up the coast is the tallest lighthouse in New Jersey and the 3rd tallest in the US. It is located at 31 S.Rhode Island Ave, in Atlantic City. The lighthouse  is open Sept-June, Thursday-Mon 11-4 and daily in the summer 10-5. It costs $7 for adults, $5 for senior and $4 for kids 4-12to climb the 228 steps to the top but the views are well worth it. there is plenty of free parking and park includes the Lighthouse Keepers Home, Museum and Gift Shop.
7. Storybook Land-Celebrating 58 years of bringing joy to families. Storybook Land is a one price includes all attraction, located just 20 minutes from AC in Egg harbor Township. There  are over 14 amusement rides and 30 attractions recreating famous nursery rhymes. Sit in Cinderellas Pumpkin Coach, slide down Jack and Jill's Hill Slide, explore Old Mother Hubbards Shoe or have your picture taken in Moby Dicks mouth.  Paths through the park are tree lined and there is a gift shop and concession stands. Admission is $23.50 for those 2+ They are open daily in the summer 10-5:30 and 1-5 March-Dec. Be sure to come visit during Halloween for Non Spooky Trick or Treat, see the Easter Bunny and in December Mr. and Mrs. Santa Claus.
8. Ripley's Believe It or Not-This Ripley's location is at 1441 Boardwalk in Atlantic City. You will find the regular Ripley;s attractions and oddities as well as a Laser Challenge Maze. Open daily 10am to 9pm. Adults are $15.99, kids 5-12 $9.99 and seniors 65+ $12.99. Ripley's is a great rainy day activity.
9. Ocean City Boardwalk-The OC Boardwalk is located just a half hour south of Atlantic City. This boardwalk is a quieter, more laid back boardwalk featuring 2 amusement piers, Gillian's and Castaway Cove, both pay as you go attractions. Check out the discounts if you buy a book of ride tickets. there are many mini golf venues and Gillian's Water Park. Try the Famous Mac and Macko's pizza, water ice, frozen custard at Kohl Brothers, hot dogs and cotton candy. There are many free concerts at the Music Pier, located at 9th street as well as tons of shops and eateries.
10. Atlantic City Beach and Boardwalk-The original Boardwalk offers 4 miles of oceanfront relaxation or frantic fun. There are casinos, restaurants, shops, arcades and amusement rides and mini golf. Check out the 3-D light sound and laser show nightly at the Atlantic City  Boardwalk Hall. You can rent bikes and ride from 6:30-10am only. The beaches in AC are free and guarded by the finest lifeguards in the US. You can swim, surf, fish or just soak up the sun. there are free movies and concert events throughout the summer season.
Leave Your Comments Here:
User Comments